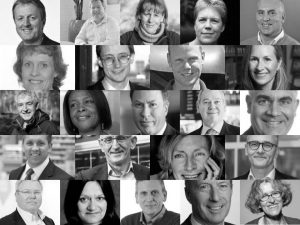 An advisory panel of experts from across agriculture, retail, food manufacture, NGOs and academia has today been named to support the development of the National Food Strategy.  The Advisory Panel is made up of people from across the food system with extensive experience of the issues the review is tackling.
Lead Independent Reviewer, Henry Dimbleby, has asked the panel to review his work as it progresses and to provide strong independent challenge.  The National Food Strategy team wants to ensure that no stone is left unturned and that ideas are examined from every angle.
Members of the panel are:
Agriculture
Minette Batters – President, NFU
Helen Browning – Chief Executive, Soil Association
Craig Livingstone – Farmer of the Year, 2018
John Shropshire – Chairman, G's Farm
Industry
Paul Clarke – Chief Technology Officer, Ocado
Justin King – Former Chief Executive Sainsburys, Non-Executive Director, Marks & Spencer
Sarah Mukherjee – Chief Executive, Crop Protection Association
Sebastian Munden – General Manager, Unilever UK & Ireland
Andrew Selley – Chief Executive, Bidfood
Alastair Storey – Westbury Street Holdings (WSH) Founder and Chief Executive
Gerard Van der Hut – Managing Director, Rijk Zwann UK Ltd
Roger Whiteside – Chief Executive, Greggs plc
Non-governmental bodies, arm's-length bodies, and campaigners
Denise Bentley – Founder, First Love Foundation
Baroness Boycott – Member, Food, Poverty, Health and the Environment Committee, House of Lords, former Chair of the London Food Board
Tony Juniper – Chair, Natural England
Academics and experts
Meredith Crowley – Reader in International Economics, University of Cambridge. Specialising in international trade.
David Halpern – Chief Executive, Behavioural Insights Team
Susan Jebb – Professor of Diet and Population Health, University of Oxford. Member, Public Health England Obesity Programme Board
Tim Leunig – Visiting Fellow, Economic History, London School of Economics
Steve McCorriston – Professor of Agricultural Economics, University of Exeter
Theresa Marteau – Director of Behaviour and Health Research Unit, University of Cambridge
Jeremy Oppenheim – Founder & Senior Partner, SYSTEMIQ
Jonathan Valabhji – National Clinical Director for Diabetes and Obesity, NHS England
Speaking about the appointment of the panel members, Lead Independent Reviewer, Henry Dimbleby said:
"This is a formidable group of people, who will enrich and strengthen the National Food Strategy review with their knowledge and experience.
"We don't expect panel members to agree on everything. Indeed, we would be surprised if they did. But by subjecting our work to the toughest scrutiny, the Advisory Panel will test our ideas and make them better."